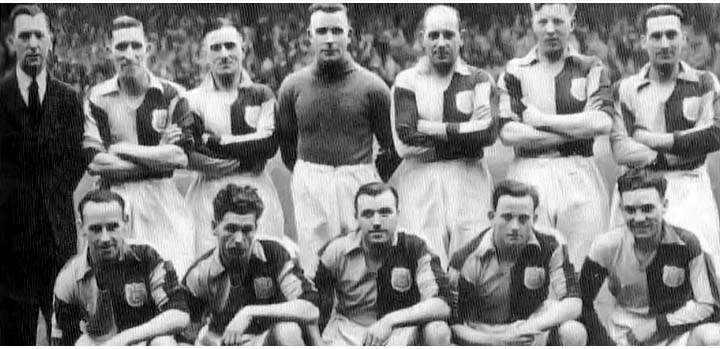 Back Row: Bob Roxburgh (Trainer), Frank Butterworth, Bob Shotton (Barnsley), Jim Twomey,
Jack Milburn, Robson Campbell (Chelsea), Sam Weaver (Chelsea).
Front Row: Eddie Burbanks (Sunderland), Cyril Coyne, Gerry Henry, Tom Hindle, John Paton(Celtic).


All official football activities postponed for this season on account of WWII.
Above team consists of regulars and guest players who played for Leeds in the regional Northern Section.


| | | | | | |
| --- | --- | --- | --- | --- | --- |
| Comp. | Date | Opponents | Score | Scorers | Crowd |
| FL Northern Section | Aug 26 | Bradford Park Avenue (A) | 3-4 (L) | Henry, Sutherland, Jack Milburn (pen) | 8,416 |
| FL Northern Section | Sep 02 | Bradford Park Avenue (H) | 3-3 (D) | Yeomanson, Sutherland, Jack Milburn (pen) | 6,000 |
| FL Northern Section | Sep 09 | Sunderland (H) | 0-1 (L) | | 8,000 |
| FL Northern Section | Sep 16 | Sunderland (A) | 1-5 (L) | Mahon | 8,000 |
| FL Northern Section | Sep 23 | Middlesbrough (A) | 2-3 (L) | Ainsley (2) | 4,500 |
| FL Northern Section | Sep 30 | Middlesbrough (H) | 4-2 (W) | Coyne, Mahon (2), Hindle | 8,000 |
| FL Northern Section | Oct 07 | Hull City (H) | 5-2 (W) | Coyne (2), Henry, Mahon, Hindle | 8,000 |
| FL Northern Section | Oct 14 | Hull City (A) | 0-0 (D) | | 5,000 |
| FL Northern Section | Oct 21 | Newcastle United (H) | 2-1 (W) | Coyne (2) | 8,000 |
| FL Northern Section | Oct 28 | Newcastle United (A) | 4-2 (W) | Mahon, Short, Hindle, Ainsley | 25,000 |
| FL Northern Section | Nov 04 | Bradford City (A) | 6-2 (W) | Coyne, Hindle (2), Ainsley (3) | 6,657 |
| FL Northern Section | Nov 11 | Bradford City (H) | 4-1 (W) | Hindle, Ainsley (3) | 8,760 |
| FL Northern Section | Nov 18 | Hartlepool United (H) | 6-2 (W) | Short (3), Hindle (2), Ainsley | 9,000 |
| FL Northern Section | Nov 25 | Hartlepool United (A) | 0-3 (L) | | 4,940 |
| FL Northern Section | Dec 02 | Huddersfield Town (A) | 2-4 (L) | Henry, Moule | 7,880 |
| FL Northern Section | Dec 09 | Huddersfield Town (H) | 2-3 (L) | Henry, Moule | 14,000 |
| FL Northern Section | Dec 16 | York City (H) | 3-1 (W) | Henry (3) | 5,000 |
| FL Northern Section | Dec 23 | York City (A) | 6-3 (W) | Moule, Short (2), Hindle (3) | 4,871 |

FL Northern Section 1944-44
P
W
D
L
F
A
Pts
1
Huddersfield Town
18
14
3
1
50
22
31
2
Derby County
18
14
1
3
54
19
29
3
Sunderland
18
12
4
2
52
25
28
4
Aston Villa
18
12
3
3
54
19
27
5
Everton
18
12
2
4
58
25
26
6
Wrexham
18
11
3
4
40
18
25
7
Doncaster Rovers
18
12
0
6
48
27
24
8
Bradford Park Avenue
18
10
4
4
45
31
24
9
Bolton Wanderers
18
9
6
3
34
22
24
10
Manchester City
18
9
4
5
53
31
22
11
Stoke City
18
9
4
5
37
25
22
12
Birmingham
18
8
6
4
30
21
22
13
Barnsley
18
10
2
6
42
32
22
14
Rotherham United
18
9
4
5
31
25
32
15
West Bromwich Albion
18
9
4
5
36
30
22
16
Liverpool
18
9
3
6
41
30
21
17
Grimsby Town
18
9
3
6
37
29
31
18
Halifax Town
18
8
5
5
30
29
21
19
Chester
18
9
3
6
45
45
21
20
Blackpool
18
9
2
7
53
38
20
21
Burnley
18
8
4
6
39
27
20
22
Leeds United
18
9
2
7
53
42
20
23
Sheffield Wednesday
18
9
2
7
34
30
20
24
Chesterfield Town
18
8
3
7
30
19
19
25
Darlington
18
9
1
8
52
45
19
26
Wolverhampton Wanderers
18
7
5
6
31
27
19
27
Rochdale
18
7
5
6
35
33
19
28
Crewe Alexandra
18
9
1
8
43
41
19
29
Blackburn Rovers
18
7
4
7
30
29
18
30
Manchester United
18
8
2
8
40
40
18
31
Preston North End
18
7
4
7
26
28
18
32
Walsall
18
5
6
7
27
29
16
33
Gateshead
18
7
2
9
45
53
16
34
Northampton Town
18
5
6
7
30
38
16
35
Newcastle United
18
7
1
10
51
38
15
36
Sheffield United
18
6
3
9
27
25
15
37
Hartlepool
18
7
1
10
41
47
15
38
Oldham Athletic
18
7
1
10
28
36
15
39
Mansfield Town
18
6
3
9
31
40
15
40
Nottingham Forest
18
5
5
8
22
34
15
41
Coventry City
18
6
2
10
23
42
14
42
York City
18
6
1
11
49
52
13
43
Middlesbrough
18
5
3
10
34
57
13
44
Bradford City
18
6
1
11
35
60
13
45
Accrington Stanley
18
5
2
11
29
46
12
46
Port Vale
18
5
2
11
22
36
12
47
Bury
18
5
2
11
28
48
12
48
Stockport County
18
5
1
12
33
70
11
49
Hull City
18
4
3
11
23
60
11
50
Southport
18
3
4
11
32
55
10
51
Lincoln City
18
4
2
12
32
56
10
52
Leicester City
18
3
4
11
23
46
10
53
Tranmere Rovers
18
2
1
15
20
53
5
54
Notts County
18
2
1
15
19
62
5
---
The Leeds United Web Ring
est.1996
[ Home | Join Now | Ring Hub | Random | << Prev | Next >> ]

---