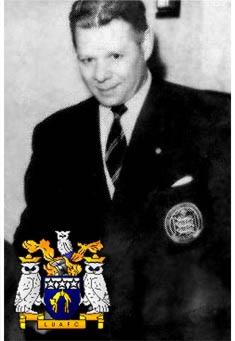 Bill Lambton from Nottingham, had been drafted in as coach by previous manager Raich Carter and it was Lambton who the Leeds board turned to after failing to renew Carter's contract, offering him the role on an acting basis. Probably until the Leeds officials could
find a permanent replacement. As a player he played in goal for Nottingham Forest, Exeter and Doncaster before becoming a coach
at Scunthorpe. It was here he caught the eye of Carter.
Lambton was a fitness fanatic and had introduced some curious training methods which didn't go down too well with the players, John Charles had already left, which added to the shaky foundation of an unsettled Leeds side. The team made a desperate start to the season and by the 8th November found themselves third from bottom taking just 12 points from 16 games. This prompted Lambton to take drastic action, spending a weighty £14,000 on Sunderland's Don Revie. Lambton was finally confirmed as manager on the 9th December, after Leeds had managed a run of four wins taking them to 11th in the table. The run didn't last though and the discontentment that had been brewing with the players reached its peak. Several players demanded transfers, prompting Lambton to decide his own fate, resigning two months before the end of the season.